(Note: Some of the links in this post are affiliate links, and we will be compensated when you make a purchase by clicking through our links at no additional cost to you.)
Need reusable cloth diapers? The ALVABABY Baby Reusable Cloth Diapers, 6 Pack, for Baby Girls and Boys with 12 Inserts are currently on sale for $31.99 (reg. $53.98) on Amazon.
Get free two-day shipping with Amazon Prime. Not a member? Sign up for a free 30-day trial now. Otherwise, shipping is free on orders of $25.00 or more.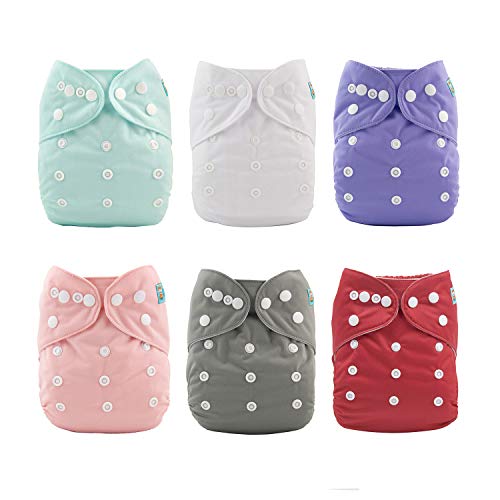 Promising Review
"I first was gifted a big box of used cloth diapers of all different brands and this brand was my favorite. I've now purchased 3 sets of these from Amazon, including this one. Very customizable as far as fit goes. We use the included microfiber inserts and have never had problems with leaking. (For reference my child is 2 and we change him every 3 or 4 hours.) Simple to clean, wash and dry, not much extra work at all!" ~Ashleigh Correll
Fake reviews vetting
Nearly 404 consumers collectively rated the ALVABABY Baby Reusable Cloth Diapers, 6 Pack, for Baby Girls and Boys with 12 Inserts 4.8 stars out of 5 on Amazon and those reviews earned an A grade from Fakespot. ReviewMeta indicates that about 0% of those reviews are potentially unnatural.
***Please note that Fakespot and Reviewmeta aren't infallible — and they don't reflect anything about the product itself. They're simply evaluating the reviews of the product. One thing you can do to combat fake reviews is to add your voice to the mix. Be sure to upvote or downvote this product and if you have this product already please tell us in the comment below how you like it. In addition, when you buy something from Amazon, Walmart, Best Buy, etc, take a minute to leave your own review. The more legitimate reviews there are, the easier it'll be for others to make an informed decision.*** Click here to learn more about fake reviews.