(Note: Some of the links in this post are affiliate links, and we will be compensated when you make a purchase by clicking through our links at no additional cost to you.)
Hurry over to Amazon where this popular Mika Micky Standalone Bassinet and Bedside Sleeper is on sale for only $169.99 shipped (reg. $199.99).
This is perfect for newborn and breastfeeding mom. Designed to help you get back to sleep more quickly after each feeding and comforting.
Get free two-day shipping with Amazon Prime. Not a member? Sign up for a free 30-day trial now. Otherwise, shipping is free on orders of $25.00 or more.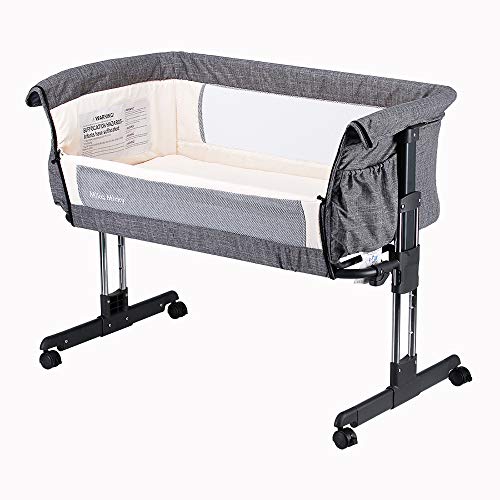 Promising Review
" absolutely love this for my baby. It is so nice to have him close enough for me to check on him without getting out of bed. The bassinet is better quality than I expected ( never heard of the brand and was a little concerned). It looks great and was easy to assemble. It is sturdy and secure. The wheel locks are strong and it comes with additional straps to hook under the bed mattress so the bassinet with not budge. Mattress is firm and the cover is removable and washable. I'm am very happy with the product! "
Fake reviews vetting
Nearly 5886 consumers collectively rated the Mika Micky Standalone Bassinet and Bedside Sleeper 4.8 stars out of 5 on Amazon and those reviews earned an C grade from Fakespot. ReviewMeta indicates that about 0% of those reviews are potentially unnatural.
***Please note that Fakespot and Reviewmeta aren't infallible — and they don't reflect anything about the product itself. They're simply evaluating the reviews of the product. One thing you can do to combat fake reviews is to add your voice to the mix. Be sure to upvote or downvote this product and if you have this product already please tell us in the comment below how you like it. In addition, when you buy something from Amazon, Walmart, Best Buy, etc, take a minute to leave your own review. The more legitimate reviews there are, the easier it'll be for others to make an informed decision.*** Click here to learn more about fake reviews.