8 Best Baby Swings in 2022 To Sooth Your Little One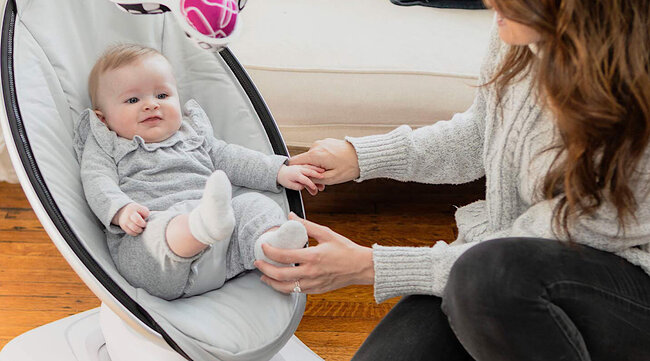 (Note: Some of the links in this post are affiliate links, and we will be compensated when you make a purchase by clicking through our links at no additional cost to you.)
What are the best baby swings in 2022?
Babies love gentle rocking movements. Gentle swinging back and forth is comforting and easily lulls most babies off to sleep. At the very least, it will calm a cranky baby. You can't stand and rock your baby for more than an hour without succumbing to exhaustion. Baby swings keep your baby happily swinging so you don't have to. In addition, baby swings can soothe parents as much as they soothe their little ones by providing a comforting environment when parents with jangled nerves have run out of ideas to get a baby to sleep. Today's models offer parents a variety of options to choose from. From traditional hand-wound swings that lull baby to sleep to full-activity centers, there's a swing to suit just about every need and every budget. Some manufacturers have even based their designs on how the human body moves when it holds and rocks a baby. How to choose one which one works for you and your baby? Let this post help you decide.
QUICK RECOMMENDATIONS
Check out this quick list of our favorites if you're in a hurry, or continue scrolling to see our full top 8 list with in-depth reviews.
#1: 4moms mamaRoo 4 Baby Swing (Best overall high chair)
#2: Graco Simple Sway Swing (Best budget)
#3: Graco Sense2Soothe Baby Swing with Cry Detection Technology
#4: Ingenuity DreamComfort InLighten Cradling Swing
#5: Graco Glider LX Baby Swing
#6: Munchkin Bluetooth Enabled Lightweight Baby Swing
#7: Fisher-Price Sweet Snugapuppy Swing
#8: Ingenuity ConvertMe Swing-2-Seat
Five key points you need to look at:
1) Safety and Comfort
Look for five-point harnesses that restrain your child at the shoulders, hips and crotch to prevent your child from slipping in the seat. Make sure your baby swing has a wide base that's tip resistant. If you're buying for a newborn, look for an infant recline seat that adjust to upright as baby grows. Canopies protect babies from sun when using swings outdoors. Buy new, not used.
2) Power Source
Baby swings are powered either by hand (wind up) or battery. Battery-powered models are easier to operate, but battery replacement adds to the baby swing's cost over time. Purchase (or include in your gift registry) a battery recharger when you purchase the baby swing.
3) Speed and Sound
As your child grows, their increased weight affects how the baby swing swings. Look for swings with a variety of speeds to adjust to your growing child. When it comes to sound, models that feature volume knobs versus two static settings allow optimum control based on baby's mood.
4) Portability and Storage
Many manufacturers also make take-along versions of their most popular baby swings. If you'll be traveling a lot, using your baby swing in the yard or simply moving from room to room at home, consider these easy-to-tote swings.
5) Keeping Baby Busy
Many baby swings also function as activity centers and feature mobiles, baby- or parent-activated lights in addition to their sound and music capabilities.
Here are the 8 best baby swings in 2022:
1. 4moms mamaRoo 4 Baby Swing

PROS:
Five motion settingsSmall and compact size
Glossy & modern design
Bluetooth enabled
5-speed settings
Sound system
Mp3 Plugin
Can be controlled with a smartphone
Ac adapter
---
2. Graco Simple Sway Swing


-30%
4 new from $83.99

3 used from $80.48

Free shipping
Last update was on: September 26, 2023 09:47
Gentle, side-to-side swaying motion soothes and comforts baby
6 swing speeds allow you to find the right pace for baby
Deep, plush seat and head support keep baby cozy and comfortable
Small frame design fits easily anywhere in your home
2-speed vibration further comforts your little one
PROS:
Uses a 5-point harness for safety
15 different sounds and lullabies
Soft, comfortable padding
Easy to assemble
Has six different side-to-side motions and two vibration settings
CONS:
Curve of the inside of the swing doesn't always match the curvature of your baby's body
---
3. Graco Sense2Soothe Baby Swing with Cry Detection Technology


Last update was on: September 26, 2023 09:47
Multi-direction seat offers more ways to soothe
3 adjustable swing speeds ensure finding just the right soothing pace to fit baby's preference
Vibration with 2 speed settings so baby will remain soothed and content.Do not use bleach or detergent
3-position recline means finding just the right angle to keep baby comfortable
Choose from white noise, nature sounds, or music to help soothe and amuse baby
Recommended Use : Swing up to 25 lbs and Rocker up to 18 lbs
PROS:
Unique Cry Detection Technology makes the swing "baby–operated"
Quick response to crying
Two-in-One Swing and Rocker
AC Adapter means no need for batteries
Rocker: portable so you can move baby from room to room
Multi-directional swinging
Compact design
Cry sense adjusts settings as needed until your baby is soothed
Three recline positions
Comfortable padding
CONS:
While the Cry Detection Technology is innovative, if you have several children in your home, there is a small chance it will be triggered by someone other than the sleeping baby and change swings motions
Certain settings can be a little loud
Expensive
Can move a little jerkily on higher speed settings
---
4. Ingenuity DreamComfort InLighten Cradling Swing


1 new from $174.99

4 used from $125.31

Free shipping
Last update was on: September 26, 2023 09:47
The vibrating seat of the Ingenuity InLighten Soothing Swing rotates 180° & swings in 3 directions; Premium breathable mesh fabric promotes airflow & helps keep baby comfy; sweet unisex design
LightBeams mobile includes 2 plush toys & projects a dazzling light show; mirror on the underside of the mobile encourages self-discovery. Easy to clean with machine washable seat pad & bolster; frame & toys wipe clean
PROS:
Built-in timer
Quiet operation
Rotates 180 degrees
CONS:
Batteries not included
Difficult to clean
Seat cover can be difficult to remove
---
5. Graco Glider LX Gliding Swing


Last update was on: September 26, 2023 09:47
Soothes with the same gentle motion you use when cuddling and comforting baby in your nursery glider.
Lightweight frame makes it easy to use anywhere in the house
Roomy seat with soft fabrics and plush head support keep baby cozy and comfortable
6 gliding speeds allow you to find the right pace to suit baby's mood
10 classic melodies and 5 nature sounds will delight and amuse your little one
PROS:
Multiple speed and vibration options
Five-point harness
Adjustable recline
Has both plugin or batteries options
CONS:
Vibration options are battery operated
Not travel-friendly
Cannot connect to Bluetooth
No side to side motion
---
6. Munchkin Bluetooth Enabled Lightweight Baby Swing


2 new from $179.00

Free shipping
Last update was on: September 26, 2023 09:47
Emulates parents' natural side-to-side sway with 5 levels of range of motion
Bluetooth enabled to play your child's favorite music from your phone
Winner of the Best of Baby Awards, The Bump, for Best Swing/Bouncer/Rocker, 2021
Touchscreen display is smart, intuitive and easy to use
Lightweight and portable – Easy to put together and pack down in seconds for simple storage or transport
For babies between 5-20 lbs who cannot sit up or climb out of swing unassisted
PROS:
Includes remote
Bluetooth compatible
Folds down easy for storage
CONS:
No vibrating options
Only 3-point harness (not five)
Fabric on swing itself is not machine washable
---
7. Fisher-Price Sweet Snugapuppy Swing


Last update was on: September 26, 2023 09:47
Dual-motion, puppy-themed baby swing sways side-to-side or head-to-toe
Customize with 6 swing speeds, 16 songs and sounds, and adjustable seat recline
Overhead mobile with dome mirror and 3 soft toys help entertain baby
Machine-washable, plush seat pad with deluxe Sweet Snugapuppy body cushion insert and head support
Legs fold for storage and travel, plus AC plug option (Saves on batteries!)
PROS:
Comes with a comfortable insert
Fabrics are machine washable
Sways back-to-front and side-to-side
Has sounds, songs, and a mobile
CONS:
Does not have an especially powerful swaying motion
---
8. Ingenuity ConvertMe Swing-2-Seat


2 new from $90.59

Free shipping
Last update was on: September 26, 2023 09:47
Bring baby's favorite seat on-the-go with the unisex Ingenuity ConvertMe Swing-2-Seat; Features a foldable design to lay flat for storage and portability
2-in-1 design converts from an automatic swing to stationary seat; Easily lock into the seat mode with our secure EasyLock system; 5-point harness keeps baby secure in either mode
Soothe baby with vibrations, 5 swing settings, 12 melodies and 4 nature sounds; Quiet motor keeps swing time peaceful for baby and you; Toy bar includes 1 plush bear toy and pivots out of the way when you need to access your baby
PROS:
Fun, entertaining toy bar
Easy to fold flat and take on the go
WhisperQuiet technology prevents clicking noises
Hybridrive technology makes batteries last longer
Fabric removes easily for cleaning
Works as a swing or a rocker
CONS:
Only runs on batteries
Vibration doesn't automatically shut off
---