11 Best Breast Pumps in 2022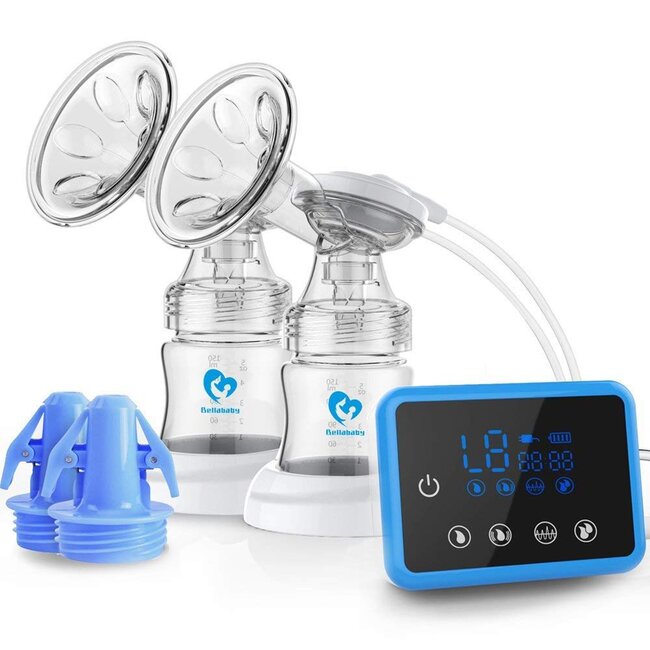 (Note: Some of the links in this post are affiliate links, and we will be compensated when you make a purchase by clicking through our links at no additional cost to you.)
What are the best breast pumps in 2022?
All breast pumps are NOT the same! When considering a breast pump, it's important to look for one that will come as close to mimicking what your baby does at the breast as possible. This is the difference in what makes a pump effective and comfortable versus one that is ineffective and may even cause discomfort or trauma to nipple or breast tissue. There are certain criteria to consider when comparing breast pumps.
QUICK RECOMMENDATIONS
Check out this quick list of our favorites if you're in a hurry, or continue scrolling to see our full top 11 list with in-depth reviews.
#1: Spectra – S1 Plus Electric Breast Pump (Best overall breast pump)
#2: Medela Pump In Style with MaxFlow Breast Pump (Runner-Up)
#3: BellaBaby Double Electric Breast Pump (Best budget)
#4: Elvie Wearable Double Electric Breast Pump (Best handsfree)
#5: Medela Freestyle Flex Breast Pump
#6: Evenflo Deluxe Advanced Double Electric Breast Pump
#7: Evenflo Advanced Single-Electric Breast Pump (Best single-electric breast pump)
#8: Medela Swing Single Electric Breast Pump
#9: Willow Pump Wearable Breast Pump
#10: Haakaa Silicone Breastfeeding Manual Breast Pump
#11: Medela Manual Harmony Single Hand Breast Pump
How To Choose a Breast Pump
Effectiveness:
This for the most part translates to how well or how often the pump cycles, or creates suction and releases it. The healthy nursing baby will suckle 45-55 times a minute. Pumps which cycle closer to this range tend to be more effective at yielding the most milk as well as maintaining the milk supply more effectively. Look for pumps which cycle at least 25 times per minute. Those with cycling rates below 25 are often ineffective at yielding milk. In addition, their cycles tend to be longer (as well as less) and therefore may cause pain as the breast and nipple tissue is suctioned for too long a period. Pumps which automatically cycle also tend to be more effective than those which require the user to regulate the cycles, often by covering a hole, or pressing a button or bar. Cycles which must be user-controlled leave much to user-error.
The pump's suction strength is also important to know. Breast pump suction pressures range from 20-650 mm Hg negative pressure. Pressures above the high 200s often cause pain. Pressures below 150 are reported to be ineffective at extracting milk. A breast pump that is similar to a nursing baby creates 200-230 mm Hg negative pressure and cycles about once every second.
Comfort:
Most of the time, pumps with the autocycling feature are more comfortable to use. Too many times, those that require the mother to break the suction result in the suction lasting too long. Some breast pumps also are limited to only one size breast flange. Mothers with larger nipples and/or breasts may find these "one size fits all" pumps uncomfortable. They may also find that the pump yields little milk for their efforts as not enough of the breast tissue behind the nipple is taken up into the flange; therefore the breast is not "milked" well. Alternately, some moms require a smaller breast shield due to smaller breasts or nipples. Look for pumps that come with a choice of breast flanges or those that have a larger or smaller breast flange available as a separate purchase in case you should require a different size for optimal pumping comfort and success. Additionally, manual pumps that require a repetitive action may not be a good idea for those with hand or wrist problems, depending upon the type of hand action required.
Type of pumping action – single, alternating, double:
Single pumps, whether manual or battery/electric, only pump one breast at a time. This does not provide as good of stimulation as double pumping and the pumping time required is also longer (twice as long in some cases) This is still acceptable if you will only need to use a breast pump occasionally. Single pumps are most always a good choice for the stay-at-home mom or the mom only working part-time and needing to use a breast pump on average once a day.
Pumps that provide alternating double suction, where the suction is created on one side as it is released on the other, provide more stimulation and a faster pumping time than single pumps, but not as much stimulation or as fast a pumping time as a simultaneous double pump in which the suction occurs on both breasts at the same time. These alternating pumps, like the single pumps, are still good choices for moms who don't work outside the home or who only work part time.
Simultaneous double pumps, often referred to as hospital or professional grade pumps, offer premium pump performance. They pump both breasts at the same time, thus cutting pumping time in half over single pumping. Additionally, there is research to suggest that simultaneous double pumping increases the hormone responsible for milk production and therefore better maintains milk supply over a longer period of time.
Closed system vs open system breast pump:
A closed system pump has a barrier between the milk you pump and the pump itself. The barrier means that no milk or fluids can get into the pump helping to prevent contamination.
An open pump system has no barrier. If milk gets into the tubing, then the tubing must be cleaned and dried before using it again. Please keep in mind it is very unlikely there will be contamination if milk is left inside the tubing, but it is a possibility.
Pump durability:
When choosing a breast pump, it's important to have an idea of how often and how long you'll need to use the pump. Some pumps are designed to be used infrequently and therefore have smaller and less durable motors. Others are designed to be used frequently and for longer periods of time and therefore have larger and more durable motors. Don't make the mistake of choosing a pump that's purpose and lifespan fall below your pumping frequency needs. This will only result in premature motor wear and tear and perhaps a compromised milk supply once the motor begins to wear out. Manual pumps, of course, do not depend upon a motor for operation, and therefore do not pose the problem of motor wear and tear.
Other criteria that you may want to consider:
One feature that you may be concerned about is the quietness of the pump. Breast pumps with a quiet motor makes is more discreet. Manual pumps, by their very nature, are very quiet. What power options the pump provides is also of importance. If you will need to pump in a place without an electrical outlet, then you'll want to consider a pump that comes ready to run on batteries. How portable the pump is and how discreet it is may also be something to consider depending upon where you will be pumping and how often you will need to travel with the pump. How much time you will have to pump also may factor in. If you routinely have only a few minutes to pump, investing in or renting a simultaneous double pump will save you time. One important note: If pumping for a preemie or exclusively pumping, the best choice for stimulating and maintaining a healthy milk supply is a hospital-grade pump. Once breastfeeding is going well, you may be able to purchase a pump. Until that time, you need every bit of help in maintaining your supply since you don't have the benefit of your baby's help.
Cleaning Your Breast pump:
The following is considered adequate for cleaning of breast pump parts if your baby is healthy: Sterilize all pump parts that will come in contact with breast or milk before the first use unless your parts came in a sterile package. Sterilizing can be done in a hot dishwasher (water temperature greater than 140 degrees) on the top rack or in boiling water for 10-20 minutes. After each use, wash these same parts in hot, soapy water and allow them to air dry or dry them with a clean paper towel if a faster drying time is necessary. Every third to fourth use – or at the end of a work day – sterilize these parts again. Electric and microwave sterilizers provide a faster, more convenient method of sterilizing breast pump parts; however, some pump manufacturers (including Medela) do not recommend this route of sterilization and will not guarantee their pump parts if sterilized in this way. Any part that does not come into contact with breast or milk does not need routine cleaning or sterilization. This would include any tubing that may be used with the pump. Tubing only needs to be cleaned if milk enters it. Then it should be boiled for 10-20 minutes. Following sterilization it is also recommended to "shoot" rubbing alcohol down through the tubing to hasten drying and prevent mold and mildew growth. Any parts of your breast pump which require routine cleaning and which can be separated should be for each cleaning. Note: If you or your baby are being treated for thrush, it's recommended that daily boiling of all breast pump parts that come in contact with breast or milk take place.
>>> Discover the Top Baby Bottle Dish Soap
Is it safe to use a previously-used breast pump?
No pump manufacturer recommends this practice. Here is what one major company, Medela, have to say on this subject:
Medela, Inc.:
"Many mothers have asked if they can safely sell, purchase, or use a previously owned breastpump. Medela is concerned about the health and welfare of breastfeeding mothers and their babies. Breastfeeding is certainly the best way to feed your baby, and is the gold standard of infant nutrition. There is some evidence, however, that certain serious viruses* may be transmittable through breastmilk. For this reason, it is not advisable to use a previously owned breastpump. Breastpumps are single-user products, or personal care items, much like a toothbrush, and are registered with the FDA as single user items. For safety, breastpumps should never be shared, resold, or lent among mothers. Medela strongly discourages mothers from re-using or re-selling previously owned breastpump equipment. The Medela Pump In Style Breastpump has an internal diaphragm that cannot be removed, replaced, or fully sterilized. Therefore, the risk of cross-contamination associated with re-using a previously owned pump such as the Pump In Style cannot be totally dismissed. Multiple use of single-user breastpump automatically voids the warranty of the Medela product. Each mother who wishes to express milk with a pump should use a clean, uncontaminated breastpump. This is the safest way to eliminate any risk of cross-contamination. Rental pumps such as the Classic‰ and Lactina pumps are made to be safely used by repeated clients who each use their own clean personal rental kit, therefore avoiding any possible cross-contamination. Rental pumps, when used according to the Medela instructions, are safe to use by multiple mothers who have their own personal kits."
A quick reminder:
Just like breastfeeding, breast milk pumping is a learned skill. Although most mothers are able to express only a few drips of milk when they first try a breast pump, time and practice will yield knowledge of how the breast works and the mother will soon become more efficient at pumping.
No matter what method of pumping is used, the success of pumping depends on the body's ability to "let-down" to the pump. Sometimes if mothers don't see milk immediately after beginning pumping, they start to pump harder or increase the suction with the mistaken idea that more pressure with "pull" the milk out. Doing this can cause discomfort and anxiety and actually discourage the let-down response. Understanding how the let-down works makes understanding pumping easier.
The let-down reflex releases milk from the back of the breast into the ducts to make it available to baby or the pump. As the nerves in the nipple and areola are stimulated by the baby's sucking or the action of the breast pump, the pituitary gland receives a signal to release prolactin and oxytocin into mother's blood stream. Prolactin relaxes the mother and stimulates the alveoli to produce more milk. Oxytocin causes the alveoli to contract and squeezes milk into the ducts.
Here are the 11 best breast pumps in 2022:
1. Spectra – S1 Plus Electric Breast Pump


16 new from $174.99

Free shipping
Last update was on: September 26, 2023 18:13
Breastfeeding Essentials: Spectra S1 portable breast pump features comfortable suction pump levels that mimic natural breastfeeding as closely as possible
Travel Baby Supplies: Portable and rechargeable electric breast pump with a compartment for a Spectra bottle; essential baby feeding supplies for on-the-go moms
Single or Double Pumping: Use as a single electric breast pump or a double electric breast pump; for best results, use Spectra baby accessories
PROS:
Includes a rechargeable battery for on the go pumping
Extremely quiet
Strong, powerful, effective suction
Easy to use
CONS:
Short tubes
A bit heavy
Settings/controls are a bit complex for some
---
2. Medela Pump In Style with MaxFlow Breast Pump


-43%
2 new from $147.70

Free shipping
Last update was on: September 26, 2023 18:13
Max Output: Clinically proven technology to increase milk volume by 11.8% in less time*.Operation Temperature : (5 ̊C to 40 ̊C) (41 ̊F to 104 ̊F).Operation Temperature : (5 ̊C to 40 ̊C) (41 ̊F to 104 ̊F)
Max Ease: Automatic letdown and massage mode cycles and an intuitive control panel
Max Flexibility: Only 1.18 lbs. with a battery pack and single- and double-pumping options
Max Comfort: Oval-shaped breast shields that are shaped around you
PROS:
Portable battery pack
Carrying case included
Very easy to use
Equipped with 10 vacuum settings
CONS:
A bit loud
Requires 8 AA batteries (to run on battery power)
Included flanges don't work for everyone
---
3. BellaBaby Double Electric Breast Pump


2 new from $59.99

Free shipping
Last update was on: September 26, 2023 18:13
1 Come with 2 pcs of milk storage bag adapters and 10 pcs of storage bag,moms can express to the milk storage bags directly by the adapters.
Four modes and 9 levels of suction for choice,massage and stimulate breasts before pumping,comfortable and pain free.
High definition Screen,display the working mode,suction level,time and battery status etc clearly.
Sensitive touch panel,click by one finger to operate,easy and convenient.
PROS:
Under $100
Easy-to-operate
Good battery life
Compact and lightweight
Four modes with nine vacuum levels
CONS:
A bit loud
Some moms complain suction is too strong
Only two bottles included
---
4. Elvie Wearable Double Electric Breast Pump


-36%
30 new from $349.26

Free shipping
Last update was on: September 26, 2023 18:13
Not Sold by Elvie - Warranty Does Not Apply
PROS:
Hands free pumping
App for remote control and data tracking
Whisper quiet and lightweight
Great for working women as it is designed to slip into your bra
CONS:
Expensive
Can be difficult to get the hang of
Leaks show up on your clothing
Occasionally backs up
Not as powerful as the other breast pumps
---
5. Medela Freestyle Flex Breast Pump


Last update was on: September 26, 2023 18:13
DESIGNED FOR MOMS ON THE GO: All in one mobile and portable pumping solution, small enough to take with you anywhere. Designed for your active lifestyle, fits into your pocket, purse or baby bag for easy access and portability
DOUBLE ELECTRIC BREAST PUMP: Designed for daily use for moms who pump several times a day, thanks to its patented, research based 2-Phase Expression Technology which produces more milk in less time* for more efficient expression and maximum flow
PROS:
Compact
Lightweight
Good battery life
Easy to use
---
6. Evenflo Deluxe Advanced Double Electric Breast Pump


1 new from $149.99

Free shipping
Last update was on: September 26, 2023 18:13
Recommended by Breastfeeding Experts and Moms
Designed to maximize your milk output & comfortable and gentle on breasts
Designed with noise cancellation experts for a quiet, discreet pumping experience
Lightweight and portable with multiple power sources – plug, battery, and car adapter
Deluxe package includes multiple pumping accessories | 3-year warranty
PROS:
Double-electric closed-system
Lightweight
Comes with two different flanges
Wide range of speed and suction settings
CONS:
Doesn't work with most standard pumping bras
Suction not quite as strong
---
7. Evenflo Advanced Single-Electric Breast Pump


-30%
10 new from $27.99

Last update was on: September 26, 2023 18:13
CLOSED HYGENIC SYSTEM - Protecting your breast milk is important, which is why Evenflo created their Advanced Single Electric Breast Pump with a closed system. The closed system design prevents milk from flowing into the breast pump's motor assembly, keeping your pump parts safe from the potential growth of bacteria, viruses, and mold. You shouldn't have to worry about the safety of your breast milk and they've designed it so you don't have to.
PROS:
Easy to assemble
Affordable
Compact
Easy to clean
CONS:
Single-electric
Suction not quite as strong
---
8. Medela Swing Single Electric Breast Pump


-6%
1 new from $166.90

Free shipping
Last update was on: September 26, 2023 18:13
COMPACT & LIGHTWEIGHT MOTOR: This single breast pump includes a compact and lightweight motor that fits easily into your purse, backpack, or tote bag. It's easy to bring with you anywhere and anytime
RESEARCH-BASED TECHNOLOGY: Unique to Medela breast pumps, this research-based and patented design allows mothers to pump more milk in less time. It resembles a baby's natural nursing rhythm for improved comfort and efficiency.
PROS:
Option for electric or battery power
Lightweight and compact
Adjustable settings
CONS:
Suction power isn't strong enough for everyone
Somewhat pricey for what being just a single electric breast pump
---
9. Willow Pump Wearable Breast Pump


5 new from $494.98

Free shipping
Last update was on: September 26, 2023 18:13
Wearable, in-bra design: Pump quietly and hands free with no dangling cords, wires, or bottles. Rechargeable battery lasts up to 5 pumping sessions to get you through the day
Willow 3.0 comes with a 1 year non-transferable manufacturer's warranty for the original purchaser when bought from Willow Pump on Amazon. Warranty voided if bought from resellers on Amazon.
Leak-proof mobility: Willow 3.0 is the only wearable pump that doesn't leak. Our patented, continuous latch technology defies gravity to support pumping in any position (even lying down!) when using our leak-proof milk bags
PROS:
Sleek design
Entirely hands-free
Good battery life
Pairs with compatible app for tracking
Quiet and discrete
CONS:
Not as powerful
More expensive than other pumps
---
10. Haakaa Silicone Breastfeeding Manual Breast Pump


-28%
6 new from $12.94

Free shipping
Last update was on: September 26, 2023 18:13
2019 New Model. Award winning, best-selling, nursing mom and lactation consultant recommended.
Patented design. Pat. No. USD810,925S. Distributed by Haakaa USA. Counterfeits will be removed by Amazon.
Material: 100% food grade silicone. Soft and comfortable. BPA PVC and Phthalate Free
Easy to use: simply suction to your breast and let the pump do the work for you as it draws your milk using suction. Attach the pump while your child is feeding on your other breast and collect all let down and milk which would other wise be lost into a breast pad. Waking up in the middle of the night or if engorged during the day also attach your pump for relief. perfect for long distance trips, planes, car rides or anywhere you would like to discreetly express silently and quickly.
PROS:
Lightweight and portable
Easy to use
Dishwasher safe
No batteries or charge required
Affordable
CONS:
Requires manual pumping
No suction setting options, so may be painful for some
Not suitable for full-time pumping needs
---
11. Medela Manual Harmony Single Hand Breast Pump


3 new from $25.16

Free shipping
Last update was on: September 26, 2023 18:13
Light and discreet: our new Medela harmony manual pump can easily fit into your handbag so you can take it almost anywhere and pump
Flex Technology: unique 105-degree angle, oval shape, and soft rim offer a better fitting breast shield for optimal comfort while pumping and more milk per session
Research-based technology: our manual breast pump uses 2 phase technology to mimic natural baby sucking behavior at the mother's breast
PROS:
Six pieces included
Portable
Budget-friendly
CONS:
Only one nipple size included
Some customers have problems with O ring
Not suitable for full-time pumping needs
---