5 Best Jogging Strollers for Everyday Use in 2022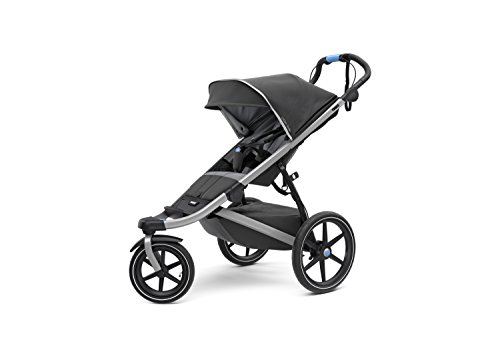 (Note: Some of the links in this post are affiliate links, and we will be compensated when you make a purchase by clicking through our links at no additional cost to you.)
What are the best jogging strollers for everyday use in 2022?
Looking for the best jogging stroller for everyday use? Then you need to check out this post where we have rounded out several impressive winners that are great for running and everyday outings.
Let's be honest here. We all know that not every parent who wanted to have a jogging stroller really wants to use it just for running. With jogging stroller offering a smoother, and more maneuverable ride than a regular stroller even in rough parking pavements make it something you'd like to use in your every day outings too. However, one major drawback of any jogging stroller is that it can be really heavy or bulky for everyday use. Wouldn't it be awesome to purchase one that you can use anytime and anywhere? Here are our picks for the best jogging strollers for everyday use.
**Please note that the commonly held rule is that babies need to be about 6-8 months before running with them in the stroller but please be sure to discuss it with your child's pediatrician before you run with them in a stroller!!**
QUICK RECOMMENDATIONS
Check out this quick list of our favorites if you're in a hurry, or continue scrolling to see our full top 5 list with in-depth reviews.
#1: Thule Urban Glide 2 Jogging Stroller
#2: BOB Gear Rambler Jogging Stroller
#3: Joovy Zoom 360 Ultralight Jogging Stroller
#4: Graco FastAction Fold Jogger
#5: Baby Trend Expedition Jogger Stroller
1. Thule Urban Glide 2 Jogging Stroller


Free shipping
Last update was on: December 7, 2023 01:01
A lightweight, all-terrain stroller perfect for jogging or strolling through town
Voted Best Jogging Stroller of 2023 by Women's Health
Swivel front wheel locks into place for jogging and running
Large 16" rear wheels with suspension provide an ultra-smooth ride
One-handed, compact fold makes storage and transport easy
Reclining seat is comfortable and safe with a padded 5-point harness
PROS:
Great runner
Easy to push and turn
Good quality
Lightweight
Height is adjustable
Wide-5point harness
Near-upright seating posting
Can accept an infant car seat
Foot-brake is sandal-friendly
One-handed folding mechanism
CONS:
No parent console
Not great on rugged terrain
---
2. BOB Gear Rambler Jogging Stroller


1 new from $429.99

Last update was on: December 7, 2023 01:01
Smooth ride: Suspension system provides an ultra-smooth ride; Compact, air-filled tires save on trunk space
Perfect Fit: No-rethread harness design for easy height adjustments as your child grows
Extra space: Large lowboy cargo basket for spacious storage underneath the stroller seat
Kid comfort: Fully upright, padded seating allows your child to see the world; One-hand recline adjustment lets you quickly lay the seat back with the squeeze of a button
PROS:
Light and easy to run with
Exceptional maneuverability
Good quality
CONS:
No additional storage
Multi-step 2-hand fold
---
3. Joovy Zoom 360 Ultralight Jogging Stroller


Free shipping
Last update was on: December 7, 2023 01:01
HIGH RIDING SEAT so your child can take in the work around them
SHOCK ABSORBING SUSPENSION because the best jogger stroller can handle any terrain – and the Zoom360 handles all kinds of surfaces, like rickety old paths, bumpy beaches, and cobblestone walkways
EXTRA-LARGE, AIR-FILLED TIRES handle every type of terrain. The locking and swiveling front tire increases stability and maneuverability, and the air pump is included so you can adjust tire pressure on the go
PROS:
Swivel front wheel locks straight
Rear suspension system
Quick release wheels with auto-lock feature
Can accommodate a car seat
Multiple storage options
CONS:
It does not have a tracking system to fix any veering off during your run
---
4. Graco FastAction Fold Jogger


2 new from $339.99

Free shipping
Last update was on: December 7, 2023 01:01
Includes the Graco SnugRide 35 Infant Car Seat, rear facing for infants from 4 35 pound and up to 32"
One second, one hand fold provides the Ultimate in convenience for moms on the go
Air filled rubber tires offer suspension for a smooth ride on any terrain
Locking front swivel wheel provides an Easy transition from daily strolling to jogging
Deluxe, padded, Multi position reclining seat for baby's comfort
PROS:
Front wheel swivels locks and has a suspension
Easy to clean and maintain
Has tons of storage for essential items
Folds using a fast, one-hand system
It accepts the Graco Click Connect infant seat
Multi-position reclining seat
CONS:
The frame is on the larger and heavy side
---
5. Baby Trend Expedition Jogger Stroller


-24%
1 new from $113.49

5 used from $106.17

Free shipping
Last update was on: December 7, 2023 01:01
Lockable front swivel wheel for ease of maneuverability
All-terrain bicycle tires
Convenient parent tray includes 2 cup holders and covered compartment storage
Child tray with 2 cup holders also accepts car seats to form a Travel System
Extra-wide, ergonomically shaped rubber handle
Adjustable canopy with covered sunroof ratchets to block sun and wind
PROS:
The least expensive
Easy to push and turn
Easy to use
5-point harness and tether strap
The padded seat can recline into multiple positions
Can accommodate a Baby Trend infant car seat
Uses a trigger release folding mechanism
Includes a center console for phones and keys
CONS:
The handlebars are not adjustable
Lower quality compare to the other jogging stroller on this list
---