How Do I Choose the Right Baby Swing? (A Baby Swing Buying Guide)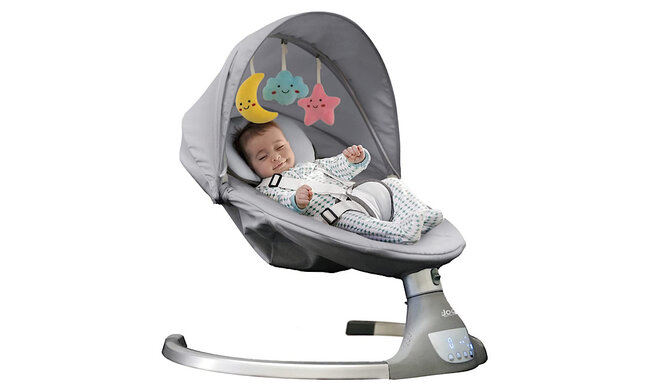 (Note: Some of the links in this post are affiliate links, and we will be compensated when you make a purchase by clicking through our links at no additional cost to you.)
Swinging is a great way to pamper your baby and most of the babies love the swinging motion. There are many baby swings available in the market designed specially for new born babies. This keeps your baby in a happy mood even if you stay away from them for a few minutes.
There are a wide range of swings that comes in both in windup and battery operated models.If you use battery swings then you don't have to keep re-winding the swing. Windup models have strong frames with tubular-metal legs and this will last longer. There are also swings which can be folded for easy storage. There are swings with musical melodies which can attract the attention of your baby. There are also soft toys attached to the swings which excites the baby. There are also portable baby swings which have a lighter frames than conventional baby swings. You can easily carry this to anywhere you want to go.
Before you go all set for buying a baby swing you should look out whether it has a good quality, durable and is safe for your baby. It should have a solid base and a safe seat as well.
>>> Discover the Top Baby Swings To Sooth Your Little One
What are the terms and definitions I need to know about?
5-point harness
Harnesses that attach at both shoulders, both hips and at the crotch for a total of five attachment points. Not all seats feature the 5-point harness; some only feature 3 attachment points. The American Academy of Pediatrics and the National Highway Traffic Safety Administration recommend 5-point harnesses as the safest way to restrain a baby in a moving device or vehicle.
Infant Recline
A swing feature designed for infants that supports their heads and necks until they've developed the strength to sit and hold them up on their own.
Variable speed
A swing's ability to swing at different speeds, depending upon baby's mood and size. As babies grow, their weight affects the speed of the swing. Variable speeds allows you to maintain a speed your child likes as he/she grows.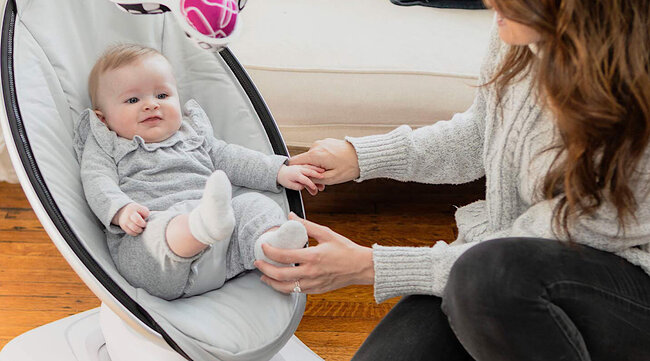 Five Things You Need To Look At When Buying A Baby Swing:
1) Safety and Comfort
As with all purchased for your child, safety and comfort are top concerns when purchasing a baby swing. When can you put your baby in a swing? Check with your doctor when your baby reaches 6-8 weeks. Babies typically outgrow baby swings between the ages of 4-6 months when their weight approached 25lbs, which is the maximum most baby swings can hold safely. Be sure the baby swing you choose has a wide base and low center of gravity to guard against tipping when baby moves. Just like car seats and strollers, you'll want a baby swing that features a five-point or three-point harness, though it's best to limit your options to swings with five-point harnesses.
The five-point harness utilizes a hip restraints to stabilize infants and prevent them from sliding down in the swing's seat. If you're considering purchasing a swing for your newborn, you'll need one that features an infant recline that supports their head and neck but can convert to an upright position as they grow stronger. Lastly, two features you'll want to look for: fold-up trays that allow you to remove your child from the baby swing without hitting their legs or head on the swing's bars (or waking them if they're sleeping) and canopies to protect their delicate skin from sun when using the swing outdoors.
2) Power Source
Is battery-powered better than the traditional wind-up baby swing? We think it comes down to a matter of preference. Like any battery-powered device, replacement batteries and/or battery rechargers add to the cost of the swing over time. However, you may find battery-powered swings to be more convenient to operate daily (no need to stop what you're doing to re-wind the swing) than wind-up swings. Other advantages to battery-powered baby swings include additional speed settings, music and other soothing, ambient noises. For those who can't stand the thought of one more task to keep up with, there are a few models that feature AC Power, such as Graco Glider Lx Baby Swing, that can run on batteries for portability but can easily be switched to run on outlet power.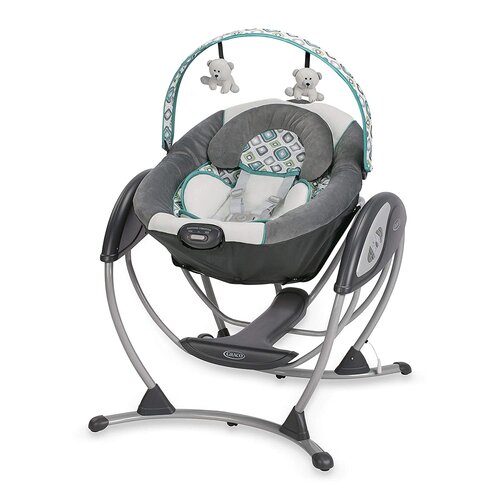 3) Speed and Sound
No two babies are alike and sometimes, the same baby is completely different one day to the next. Today they may respond to being rocked slowly, but next week, they might prefer more active movement. Your best bet is to look for swings that offer a variety of speeds to please baby's every mood. Some models, like our top Pick—the 4moms mamaRoo 4 Baby Swing—offer different rocking patterns (front to back and side to side). As your baby grows, you might also find that you need to adjust the baby swing's speed to work with their larger frame/weight. If having a swing that grows with your child is important to you, look for models with multiple speed settings
Just like the benefits of multiple swing speeds, multiple music choices can make for a better swing. Just like adults, your baby will like different music over time. Many models come with a variety of different sounds choices, so with some experimentation you should find one the lullaby that does the trick.
Look for volume knobs that control the overall sound level versus baby swings that come with only two fixed settings. You should also have the option to mute the chair, as some babies may do best with pure quiet.
4) Portability and Storage
Will you be traveling frequently and need to take your swing with you? Even if you'll just want to use your baby swing in the yard, you'll want to look for models that are light in weight without sacrificing stability. If you live in tight quarters or if storage is an issue, you may want to consider models that fold up easily and compactly. Most manufacturers make take-along versions of their swings, which make moving them anywhere—even just from room to room—easy and effortless.
5) Keeping Baby Busy
Chances are you get cranky when you're bored and so do babies. Baby swings are designed to soothe, but they can also serve as entertaining activity centers. Baby swings may come with simple toy trays attached to the front of the swing while others include colorful mobiles, mirrors, lights, music and other interactive toys or features. If you're interested in baby swings that offer these options, be sure the pieces are solid, smooth, large and not easily detached.
>>> Discover the 8 Best Baby Swings To Sooth Your Little One