6 Best Online Parenting Classes That Can Help You Become A Better Parent in 2021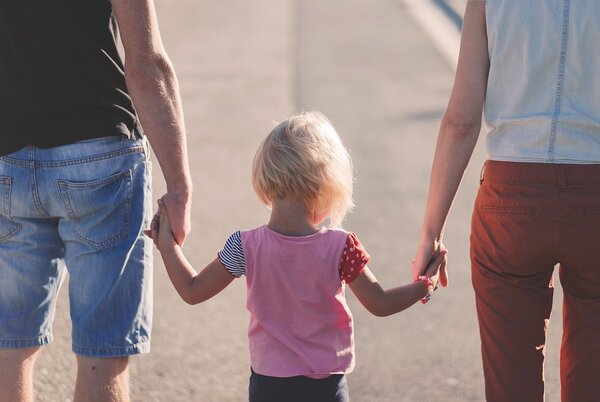 (Note: Some of the links in this post are affiliate links, and we will be compensated when you make a purchase by clicking through our links at no additional cost to you.)
What are the best online parenting classes in 2021?
Raise your hand if you've never yelled at your children!
Raise your hand if you have friends who never yell at their children!
If your hand is up… I am calling your bluff.
We've all gotten to that tipping point where we just lose our ever-loving minds…
Let's face it – Parenting is hard….really really hard. Anyone that tells you differently isn't doing it right. Or they're lying. Nearly everyone who has parented a toddler–or who has been a toddler—has a tantrum story. Toddlers and young children have an incredible way of challenging what we once thought we know about parenting. They are adventurous and curious, outgoing yet reserved, and have the strangest quirks. And, many of them are so stubborn and willful that you feel at a loss for what to do next.
We hire all these coaches, teachers and experts who we pay to teach us all these different skills, but then we somehow take it for granted that we are born as "good parents". That your maternal instincts will kick in, and you'll know just what to do with your child as they grow. That we don't need any training on that matter? Even though it's probably the biggest (yet most rewarding) challenge in our lives!?
Did you know that there are also many online classes that can teach you to be a better parent?
Here are the Best Online Parenting Classes That Can Help You Become A Better Parent.
Everyday Parenting gives you access to a toolkit of behavior-change techniques that will make your typical day in the home easier as you develop the behaviors you would like to see in your child. The lessons provide step-by-step instructions and demonstrations to improve your course of action with both children and adolescents. Among many techniques, you will learn how even simple modifications to tone of voice and phrasing can lead to more compliance. The course will also shed light on many parenting misconceptions and ineffective strategies that are routinely used.
The instructor of this course, Alan E. Kazdin, PhD, ABPP, is a Sterling Professor of Psychology and Child Psychiatry at Yale University. At Yale, he has been Chairman of the Psychology Department, Director of the Child Study Center at the School of Medicine, and Chair of the Publications Committee of the Yale University Press. His 750+ publications include 49 books that focus on parenting and child rearing, psychosocial interventions, interpersonal violence, and research methodology. His parenting work has been featured on NPR, PBS, BBC, CNN, Good Morning America, 20/20, Dr. Phil, and the Today Show. In 2008, he was President of the American Psychological Association.
Platform: Coursera
Duration: Self-paced
Rating: 4.9 out of 5
You can Sign up Here
---
This course on Udemy is quite insightful for parents who want to raise responsible kids with a sound mind and strengthen their family relations. Already more than 53,000 people have taken up this course to understand parenting methods that are based on a behavioral approach.
In this course you will learn:
Understand why your children act the way they do, based on their active brain structure and development of the brain

Understand the impact of your parenting style

Adapt your communication and reactions based on the children's active brain structure

React appropriately when your child is under stress

Grow your children's self esteem

Help your children develop a stable world view

Help you child develop a more efficient study method

Foster the natural talents of your children

Remain calm when it seems you're in the middle of a battlefield
The instructor of this course, Gregory Caremans, is the founder of Brain Academy and has specialized in the Neurocognitive and Behavioral Approach and his insights on understanding how kids think and how to leverage that knowledge for raising them are working wonders for parents.
Platform: Udemy
Duration: Self-paced
Rating: 4.5 out of 5
You can Sign up Here
---
Parenting is tough and mistakes made in a moment can take years to repair. Therefore, learning the skills of effective parenting will be one of the most worthwhile ventures you ever pursue. This parenting course is designed to cater to parents who are looking for ways to connect with their children. The course contains various principles for developing a loving atmosphere at home to encourage open communication.
In this course you will learn:
Establish loving authority in your home

Create conditions to open up communication and build trust

Build an atmosphere of harmony rather than criticism, bickering, or putdowns

Resolve disagreements and conflicts constructively and without power struggles

Give up parenting habits that destroy self-esteem and weaken relationships

Teach your children to assume responsibility for their feelings and actions

Set limits and enforce discipline without being heavy-handed
The course instructor Roger K. Allen, PhD, has studied family relationships for many years and developed a time-tested set of tools to help parents succeed in raising responsible, emotionally mature children. Replete with examples and case studies, his time-proven course gives you concrete strategies you can immediately put into practice.
Platform: Udemy
Duration: Self-paced
Rating: 4.6 out of 5
You can Sign up Here
---
If you want to be respectfully in charge and not just HOPE your children will change, if you want to consciously know how to unlock those power struggles and get that smile on their face, then this course is for you!
Simply watch and listen to the secrets that have transformed ordinary parents into empowered mom's and dad's who are getting great results every day!
No shortcuts, no 'wishy washy' unproven skills, no nonsense.
Just simple, proven and incredibly effective steps to boundaries, success and a smile back on YOUR face!
In this course you will learn:
Skills that will save you time and energy every day with less shouting, fighting, or resentment!

Understand what you are doing that makes your child stubborn and resist you

Discover what successful parents do that you can copy

Know the risks and pitfalls to avoid your children getting really angry with you

Learn the actual words that create conflict and tension in your household, and change those words and you suddenly get cooperation (this is a science, not just 'magic')

Get instant cooperation from your children!

Set quick boundaries with your children listening the first time!

Get your children to persevere and not give up on their challenges!

Get your children to have a "I can…" attitude instead of them being a victim and "I can't do it…"

Your parenting style impacts their personality development – discover how to be confident and not leave this to chance.
The course instructor Robin Booth is an international expert in providing emotionally intelligent solutions to everyday parenting challenges. Over the last 15 years he has supported hundreds and thousands of teachers and parents from around the world create breakthroughs in getting their children to cooperate with them.
Internationally he is mostly known for founding the Synergy Schooling Approach. This approach demonstrates how easily personal and academic excellence can be achieved when a teacher uses skills in boosting self esteem and developing the child's internal motivation for success .
Platform: Udemy
Duration: Self-paced
Rating: 4.5 out of 5
You can Sign up Here
---
Learn the art of parenting with the help of Dr. Shefali's 35-day quest through Mindvalley. She will guide parents with myth breaking that circle around the conventional parenting techniques and will then layer it with new insights on how to do conscious parenting to nurture kids and have strong relations with them. The course will help parents in taking a deep dive into their childhood days and understand the perspective of children to raise them mindfully. Parents can also schedule private sessions with Dr. Shefali to consult with her on sensitive matters. The curriculum is suitable for all types of parents, including those who have just given birth to those whose kids have left home to focus on their careers.
In this course you will learn:
Learn various techniques for conscious parenting through daily sessions with Dr. Shefali for 35 days

Understand myths around your upbringing and a method to break them to inculcate new methods for child-raising
Empathize with kids and help them in decision making through tried and tested methods
The course instructor Shefali Tsabary, Ph.D., is is a highly sought-after keynote speaker, having presented at Wisdom 2.0, TEDx, Kellogg Business School, The Dalai Lama Center for Peace and Education, and many more.
Dr. Shefali's journey into this radically new parenting paradigm arose from her own experience as a parent herself. Reacting irrationally to one of her then 3-year-old daughter's tantrums, Dr. Shefali became deeply self-aware that her parenting frustrations was never about her child. Rather, it was about her own unmet childhood needs that she was unconsciously projected on her own daughter.
This profound realization led her to dissect and challenge the more 'controlling nature' of traditional models of parenting – which, as soon discovered, often puts undue pressure on young children, robbing them of their confidence and autonomy.
Merging western psychology and eastern philosophy, Dr. Shefali espouses a more conscious approach to parenting that centres around honoring our children as sovereign beings, creating real connections with them, and most importantly, raising our own consciousness as parents.
Platform: Midvalley
Duration: Self-paced
Rating: 4.5 out of 5
You can Sign up Here
---
Many early childhood educators and new parents report feeling ill equipped to meet the needs of children with challenging behavior and frustrated in their attempts to develop safe and nurturing early learning environment. If you work with or a parent with young children, you are not alone in your feelings! Increasing evidence suggests that an effective approach to addressing problem behavior is the adoption of a model that focuses on promoting social-emotional development, providing support for children's appropriate behavior, and preventing challenging behavior. In this class, you will learn a framework for addressing the social and emotional development and challenging behavior of young children.
In this course you will learn:
Prevent and address challenging behavior and to foster social emotional competence in young children
Apply intensive and evidence based strategies to address almost any problem with young children
Reframe your own thinking in difficult situations
Reinforce peaceful problem-solving techniques with young children
The course instructor Gail Joseph, Ph.D. teaches in the Online Early Childhood and Family Studies BA at the University of Washington. She is an associate professor in the area of Educational Psychology and is the director of the Early Childhood and Family Studies. She teaches undergraduate courses and mentors graduate students. Before becoming a college professor, she taught in childcare, Head Start, and early childhood special education classrooms. Currently, she studies the quality of early care and education as well as co-directs the National Center for Quality Teaching and Learning.
Platform: Edx
Duration: Self-paced
Rating: 4.5 out of 5
You can Sign up Here
---
Have you taken one of these classes? Be sure to leave a review that can help other parents and parents-to-be decide which courses to take.