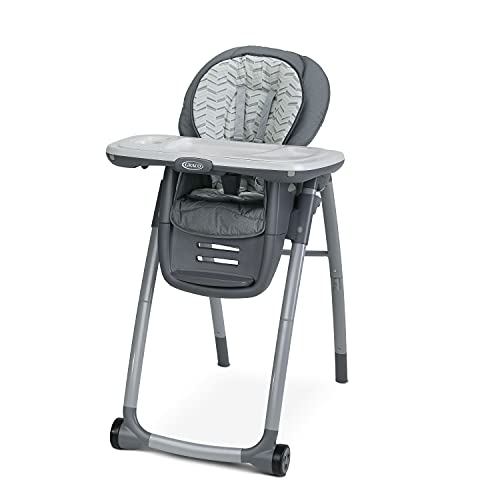 (Note: Some of the links in this post are affiliate links, and we will be compensated when you make a purchase by clicking through our links at no additional cost to you.)
What are the best baby high chairs of 2022?
At around six months old, your baby will probably start eating solids. Now is typically a great time to get them sitting in a high chair. It's also a great time to start enjoying meal times as a family, as now you can all eat together at the dinner table when dinner is served.
A baby high chair is a very beneficial chair specifically designed for feeding older babies and younger toddlers and is one of the most useful, practical, and convenient purchases you'll ever make. The high chair seat is raised a distance from the ground and some seats also have the ability to move up and down for height adjustment. Baby high chairs make it so much easier for parents to spoon-feed the child comfortably from a standing or seated position. Most High chairs often have a wide base to increase stability and prevent accidents. Most if not all high chairs feature an attached tray that attach to the arms of the high chair, which allows the parent to place the food on it for either the child to pick up and eat or for the food to be spoon-fed to them and they are also a great way to keep children entertained while dinner is being prepared. High chairs typically have seat belts to strap the child in for safety. A high chair is a wonderful feeding tool that keeps babies safe, comfortable and entertained.
With that in mind, there are many factors you may want to consider when purchasing a baby high chair. These include:
Your decor, do you want colors to match?
Your dining setting, do you want it at a height that matches the table?
Infant comfort, do you want a design that is highly padded for enhanced comfort?
Convenience, do you want a model which is simple to clean and store
There are many other factors to consider when looking at high chair designs so take your time, look around and choose a chair that really suits your home and family.
To help you navigate the many options out there, we have rounded up the 15 Best Baby High Chairs of 2022 in the post for you:
QUICK RECOMMENDATIONS
Check out this quick list of our favorites if you're in a hurry, or continue scrolling to see our full top 11 list with in-depth reviews.
#1: Graco Table2Table Premier Fold 7 in 1 Convertible High Chair (Best overall high chair)
#2: Peg Perego Siesta Highchair
#3: Oribel Cocoon 3-Stage Adjustable High Chair
#5: Graco Blossom 6 in 1 Convertible High Chair
#8: Baby Jogger City Bistro High Chair (Best folding high chair)
#9: Stokke Tripp Trapp Baby High Chair (Best minimalist high chair)
#10: Abiie Beyond Wooden High Chair with Tray (Best wooden high chair)
#11: Fisher-Price SpaceSaver High Chair (Best high chair for small spaces)
#12: Ingenuity Trio 3-in-1 High Chair
#13: Cosco Simple Fold High Chair (Best value high chair)
#14: Baby Trend Sit Right High Chair

#15: Evenflo 4-in-1 Eat & Grow Convertible High Chair
1. Graco Table2Table Premier Fold 7 in 1 Convertible High Chair (Best overall high chair)

---
2. Peg Perego Siesta Highchair
---
3. Oribel Cocoon 3-Stage Adjustable High Chair
---
4. Joovy Nook NB High Chair
---
5. Graco Blossom 6 in 1 Convertible High Chair
---
6. Joovy Foodoo High Chair
---
7. Chicco Polly Highchair
---
8. Baby Jogger City Bistro High Chair (Best folding high chair)
---
9. Stokke Tripp Trapp Baby High Chair (Best minimalist high chair)
---
10. Abiie Beyond Wooden High Chair with Tray (Best wooden high chair)
---
11. Fisher-Price SpaceSaver High Chair (Best high chair for small spaces)
---
12. Ingenuity Trio 3-in-1 High Chair
---
13. Cosco Simple Fold High Chair (Best value high chair)
---
14. Baby Trend Sit Right High Chair
---
15. Evenflo 4-in-1 Eat & Grow Convertible High Chair
---